Beong Peariang Bird Sanctuary in Siem Reap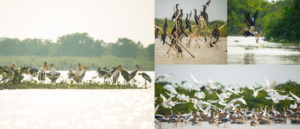 Beong Peariang bird sanctuary is about 12km from central Siem Reap city, located in Chreav district, Siem Reap Province, Cambodia. Beong Peariang has become one of the most important bird reserves within Tonle Sap since this wetland is being taken care and opened to public in 2017.
Yearly, not last longer than 4 months after the end of the rainy season in October, not all but most of birds start migrating from Prek Toal sanctuary – the home of breeding in Battambang to the reserving area of Beong Peariang where those water birds gather to find food and temporarily stay around during the dry season while some of those fly out to other parts of Tonle Sap's mangroves, and will prepare to go back for breeding at Prek Toal when the wet season comes in the middle of July.
Beyond Angkor Complex in Siem Reap, Beong Peariang sanctuary is an ideal destination for those who love bird watching and challenge to capture amazing photos of birds and the nature. The journey passes beautiful hug rice fields dotting with palm trees, cattle, birds and harvesting activities (seasonal), come across plenty of gardening activities and you probably want to stop to take some photos. Beong Peariang bird sanctuary provides fantastic boat excursion about 1 hour and half which slowly cruises within Beong Peariang that allows you to see Cambodia's threaten, rare water birds such as Comb Duck, Purple Swamphen, Cormorants, Darters, Purple and Grey Heron, Greater Adjutants, Lesser Whistling Duck etc. You can also enjoy the surrounding admired by its serenity while observing and learning from a local bird guide about bird breeding, migration and specially witness how the conservative area & birds are carefully being protected. When you return from the bird site, there will always be available time for you to visit local market at Chreav market with highlights of trading vegetables, meat and so on.
When is the best time to visit Beong Peariang?
From the middle of February, it is accessible to Beong Peariang and it's the time that birds moving from Prek Toal sanctuary. So March is a good start to see the birds and April to May should be the best time of the year. The morning tour should start from 7.00am and always combines with local market at the end, and afternoon tour is from 3.45pm to the sunset.
How to get a boat and how much does it cost?
Once you arrived at Beong Peariang, you will be directed to the booth where you're going to pay for the entrance fee $5.00 per person and the boat service. Commercially, the boat rental cost $15.00 – $25.00 per boat that allows 4 people maximum. Normally, a bird briefing and poster will be provided before embarking a local boat.
A local bird tour guide and cost!
Differently, a local bird tour guide is more informative in profession comparing to a local temple tour guide and not many of general temple tour guides have knowledge about the birds. To avoid disappointment, advance booking is essential and the guiding service is $40.00 – $50.00 depending on a group size.