Experience Tonle Sap Sunset Tours
Visually experience nice sunset over The Great Lake "Tonle Sap" – the most extensive freshwater lake in Asia, the private journey takes approx. 3 – 3 ½ hours from Siem Reap town to ward one of interesting floating communities within Tonle Sap's edges; the most recommended places are Kompong Phluk or Mechrey village and the alternative is Chong Kneas village in the low water season. With more than an hour on boat excursion, you will see the best highlights of lifestyle & lake activities, flooded forests and fishing activities on Tonle Sap Lake and learn more about Tonle Sap biosphere & eco-system from our experienced tour guide. Near the end of the trip, the packed boxes of cool local beers and finger snacks will actually make your sunset experience the most memorable as if you do your best to capture beautiful photos of the sun fading at gold-horizon.
Tour code: #sunflower
City/region: Siem Reap
Tour type: private, classic, sightseeing, boat
Duration: 3 – 3 ½ Hours
Hassle: free, flexible
Available: daily (best time: mid November to February)
Advance booking: required
Tour required: all included
Places for Watching Sunset on Tonle Sap Lake
1. Kompong Phluk Stilt-houses & Flooded Forest (2.30pm)
Kompong Phluk village is famed for its pleasant mangroves where you enjoy the rowing boat going
closer to the lines of stilt houses arising from the water about 10m high then continue the canoe goes through the mangroves where you can catch beautiful photos and enjoy the serenity. Resume the boat excursion to visit Tonle Sap, learn about ecosystem, reveal lifestyle on the water and explore the surroundings.
Tour Prices are quoted in US dollar per person
1 Pax: $90.00
2 Pax: $52.00
3 Pax: $45.00
4 Pax: $37.00
5 Pax: $34.00
6 Pax: $30.00
2. Mechrey Floating Village (3.00pm)
The sunset trip takes you passing Cambodia charming countryside dotting with palm trees, cows, water buffaloes and farming activities before reaching the boat pier at Mechrey village. The boat trip greatly cruises along the canal leading to the less touristy Mechrey floating community in the impressive Tonle Sap whose daily life animated by fishing/trading activities on their rowing boats and learn how life relies on aquatic resources.
Tour Prices are quoted in US dollar per person
1 Pax: $86.00
2 Pax: $48.00
3 Pax: $40.00
4 Pax: $35.00
5 Pax: $30.00
6 Pax: $26.00
3. Chong Kneas Floating Village (3.00pm)
Gently take the boat excursion to visit the most extensive freshwater lake "Tonle Sap or Great Lake" in Southeast Asia, the biosphere reserve of Cambodia and is also the rich home for the ecology and
biodiversity. Importantly learn from your tour guide about Tonle Sap ecosystem, fishing techniques,
witness daily life in the floating community and take interesting photos when the boat passing by the village.
Tour Prices are quoted in US dollar per person
1 Pax: $78.00
2 Pax: $44.00
3 Pax: $37.00
4 Pax: $30.00
5 Pax: $26.00
6 Pax: $25.00
Kompong Phluk's Mangroves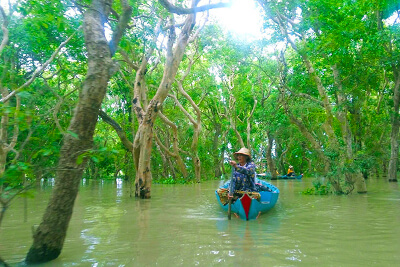 Kompong Phluk village is famed for its pleasant mangroves where you enjoy the rowing boat going closer to the lines of stilt houses arising from the water…
Phnom Kulen Waterfalls Tour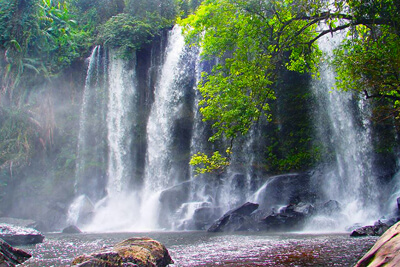 Leisurely enjoy the relaxation near the fascinating waterfall of Phnom Kulen national park, cool off and swim under the falls. The holy Phnom Kulen…