Full Day Boat Tour: Kompong Phluk to Chong Kneas Village
The full day guided Tonle Sap Lake boat tour combines the most interesting Kompong Phluk village whose attractive tall stilt-houses arising vertically from the water surface in the high-level water season as well as taking canoe to see its peaceful mangroves and the largest floating community of Chong Kneas along with hundreds of floating houses while river activities can be observed from your boat. Learn from tour guide about the rich biosphere reserve and witness daily life of local people relying on aquatic resources, ecosystem and fishing techniques, and take interesting photos as many as you like.
Tour code: #bananaflower
City/region: Siem Reap
Tour type: private, classic, sightseeing, boat/canoe
Duration: 6-7 hours
Hassle: free, flexible
Available: November to February
Advance booking: required
Tour required: all included
Detailed Itinerary
Our experienced tour guide and driver will be greeting you at 8.00am at your hotel's lobby then heading out of the hassle Siem Reap city to Kompong Phluk village of Tonle Sap Lake. The journey passes interesting city highlight and enroute to stroll around Rolous market to see trading activities before we process to embark a local boat toward the center of Kompong Phluk. The boat begins to slow down to let you enjoy the surrounding admired by amazing houses atop high wooden stilts, come across interesting daily activities as well as see people selling fruits/vegetable/meats on their boats, you sometimes see kids in student uniforms coming back from their classes. Witness how life works on the water and how people make the lake as home then we resume take canoe to explore the peaceful mangroves before returning to our regular boat then we're heading across Kompong Phluk to the largest floating community of Chong Kneas. Whilst on the boat, enjoy the breathtaking view from the lake and learn from your tour guide about ecosystem and its rich biosphere reserve. The boat slowly passes floating school and houses where you can observe highlights of fishing activities and witness how daily life works and relies on aquatic resources, we stop to see floating crocodile farm and souvenirs shop if you're interested. Return to the boat pier of Chong Kneas then take our awaiting car/minivan back to your hotel and end of service.
*Note: On the way back to the hotel, there is a huge lotus farm for a short visit and take nice photos. So feel free to speak about this with our tour guide if you want to see the lotus farm.

Tour Prices are quoted in US dollar per person
1 Pax: $165.00 ($155.00 by Tuk Tuk)
2 Pax: $89.00 ($82.00 by Tuk Tuk)
3 Pax: $70.00
4 Pax: $56.00
5 Pax: $50.00
6 Pax: $45.00
Kompong Phluk's Mangroves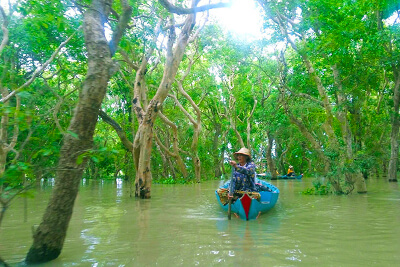 Kompong Phluk village is famed for its pleasant mangroves where you enjoy the rowing boat going closer to the lines of stilt houses arising from the water…
Phnom Kulen Waterfalls Tour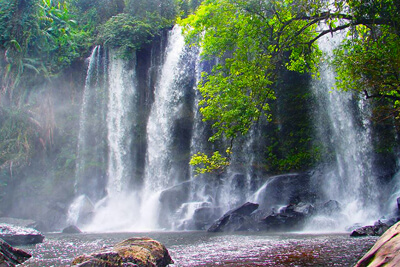 Leisurely enjoy the relaxation near the fascinating waterfall of Phnom Kulen national park, cool off and swim under the falls. The holy Phnom Kulen…