Kbal Spean Trekking, Banteay Srei and Beng Mealea Tour
The fantastic day adventure to witness remote less touristy attraction; through active trekking to see the riverbed of 1000 linga carvings of Kbal Spean to well-known intricately carved Banteay Srei whose deep carvings & lintels are perfectly remarked and photographed, Beng Mealea temple is final destination of the journey that you're going to discover the rich history, venture over the giant rocks while being invaded by vegetation and take picturesque photos.
Tour code: #corn
City/region: Siem Reap
Tour type: private, adventure, historical
Duration: 7-8 hours
Hassle: free, flexible
Available: daily (best period: November to February)
Advance booking: required
Tour required: valid Angkor ticket
Detailed Itinerary
Our experienced tour guide and driver will be greeting you at 7.30am at your hotel's lobby then transfer beyond Angkor jungle toward to Kbal Spean hill where we start hiking up with 45 minutes, through rooting/rocky path to see the series of sandstone formation carved under the river, which was built during Angkor period. We stroll around the riverbed of 1000 linga carvings admired small river and its waterfall (seasonal) and learn from your tour guide about Angkorian history then you can bathe under the falls if you visit it at the end of the rainy season. Resume the journey to unlock the intricately carved, beautiful red-pink sandstone temple of Banteay Srei – considered to be a Jewel of Khmer art which features elaborate decorations and its finest details. These factors have made the temple extremely popular with tourists, and have led to its being widely praised as a "precious gem".
Afternoon, we drive to visit the hidden Beng Mealea jungle temple amongst the real wilderness. Once we arrive, we walk to experience the guided adventure within the lush jungle to reveal the lost temple "Beng Mealea". Since the temple was constructed during the reign of king Suryavarman II in the early 12th century until then it's never been restored again. It provides wonderful adventure tour that you're going to climb over/down the ruined rocks, walking into the gallery to unlock the carvings and its interesting history of the Hindu temple related Angkor time. We then tranquilly capture picturesque photos. Return to your hotel and end of service.
Tour Prices are quoted in US dollar per person
1 Pax: $120.00
2 Pax: $66.00
3 Pax: $52.00
4 Pax: $40.00
5 Pax: $35.00
6 Pax: $30.00
Kompong Phluk's Mangroves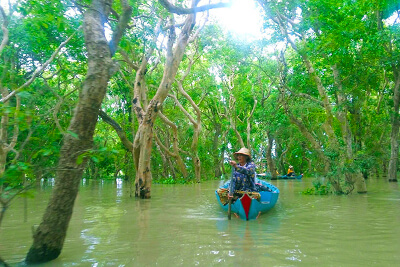 Kompong Phluk village is famed for its pleasant mangroves where you enjoy the rowing boat going closer to the lines of stilt houses arising from the water…
Phnom Kulen Waterfalls Tour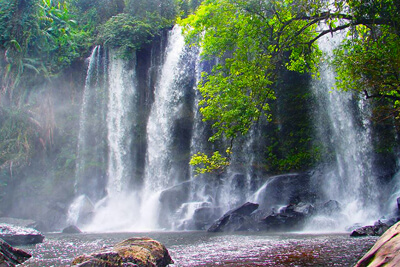 Leisurely enjoy the relaxation near the fascinating waterfall of Phnom Kulen national park, cool off and swim under the falls. The holy Phnom Kulen…