1 Day Tour Phnom Penh to Mt Oudong
An excellent day trip to discover the former Royal Residence and itself Capital which was ideally founded by Khmer King before Phnom Penh was officially established. Wandering around the impressive Royal's stupas and admired by interesting history of Phnom Oudong, our tour guide will share his knowledge and explain why Oudong was abandoned and later moved to Phnom Penh. Relatively, unlock the darkness history of the nearby region when Khmer Rouge took over the country in 1975, and indulgently enjoy the breathtaking view while taking picturesque panoramic landscapes of the surrounding.
Tour code: #soursop
City/region: Phnom Penh – Kampong Spue
Tour type: private, adventure, historical, sightseeing
Duration: 4-5 hours
Hassle: free, flexible
Available: daily (best period: November to February)
Advance booking: required
Tour required: all included
Detailed Itinerary
Our experienced tour guide and driver will be greeting you at 8.00am (or 8.30am) at hotel's lobby then we start heading out of the hassle Phnom Penh toward Phnom Oudong which locates in Kampong Speu and 40km Northwest Phnom Penh Capital. The journey takes approx. an hour drive passing beautiful countryside dotting with palm trees and huge rice fields. On the way, we make a visit at Silver Smith Making Village where we observe the locals making silver handicrafts.
Mt Oudong dates to 16th century along with interesting history. The former Royal Capital was ideally founded by King Srei Soryapor and its large impressive stupas house several Cambodia's King's ashes. Stepping our feet in the base of Mt Oudong and admired by green jungle, we gently enjoy walking up the main stairway with around 500 steps to reach the summit where we take off our shoes to explore the surrounding that includes three magnificent stupas and other small temples whilst witnessing Oudong history from our tour guide.
It's true to take the advantage of breathtaking and capture the panoramic view before we set off back to Phnom Penh in the afternoon. Please be aware that you are freely invited to visit 8th century Pre-Angkorian temple of Phnom Praset and its Buddhist pagoda which admires the reclining Buddha.
*Before returning your hotel, you may continue to stroll around Wat Phnom with interesting legendary of founding place of Phnom Penh Capital and go shopping at Russian market.
Tour Prices are quoted in US dollar per person
1 Pax: $135.00
2 Pax: $75.00
3 Pax: $62.00
4 Pax: $52.00
5 Pax: $45.00
6 Pax: $40.00
Kompong Phluk's Mangroves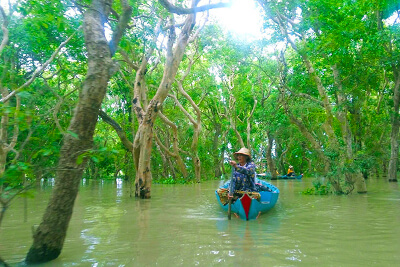 Kompong Phluk village is famed for its pleasant mangroves where you enjoy the rowing boat going closer to the lines of stilt houses arising from the water…
Phnom Kulen Waterfalls Tour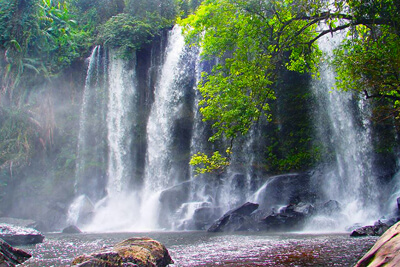 Leisurely enjoy the relaxation near the fascinating waterfall of Phnom Kulen national park, cool off and swim under the falls. The holy Phnom Kulen…