Cambodia Frequently Asking Questions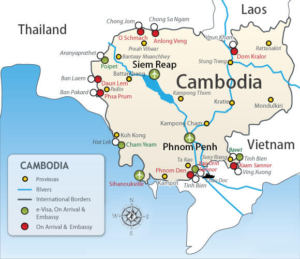 A small gorgeous home to be explored in Southeast Asia, geographically situates within the tropical monsoon, sits between Vietnam and Thailand while the northern east shares border with Laos. Cambodia dramatically suffered from the tragic genocide between 1975-1979 which widely shocked the world and sadly processed more than 2 millions of lives in the country.
Cambodia is one of the best destinations in Asia, the fascinating Siem Reap is famed for its marvelous Angkor Wat, the unrivaled masterpieces & the finest architectures that make Siem Rea become a pearl city of wonder. Distinctively, from Angkor archaeology to the modern capital of Phnom Penh where precious Royal Palace stands, Cambodia's southern coasts & natural islands offer the perfect relaxation of beach break, unlikely northern hidden Cambodia's specialty.
When is the best time to visit Cambodia?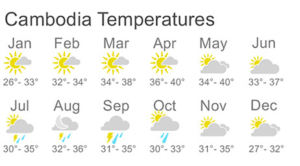 Peak seasons fall from the middle of December to the early of January, everything looks busy, hassle and hospitality services are unprecedentedly booked up quickly when most of people start to escape to celebrate Christmas and New Year Eve. However, from November to the end of February is considered as the best period for planning a holiday trip to Cambodia, the weather is pretty good, a bit warm and cold, the surrounding looks green and blue clear sky above. But in the other way around, rainy season (July to middle of October, heavy rain: mid Sep to early Oct) is also nice if you hate to see the crowds and get yourselves widest free spaces at temples, and feel the coldness of windy rain.
From March to June is dry and hot, some sightseeing and tour activities are not available during that period but it is less touristy and it is a special time to join and celebrate Khmer New Year (Songkran) if you're in 13-16 April.
Where is Cambodia?
Cambodia is in the tropical monsoon, situates between Vietnam and Thailand, and shares border with Laos at northern part, Southeast Asia. Cambodia covers 181,035 square kilometers of land and has a population of 15 million with density of 82 people per square kilometer.
Is Cambodia safe?
Yes, Cambodia is a truly safe country. There are occasional reports of petty theft and the occasional bar fight, but these can easily be avoided (especially the latter) if you exercise common sense. Do not leave your bag sitting at your feet while riding around in a tuk tuk or leave your expensive jewelry, cash or any valuable objects at unattended in a hotel's room (better to keep it in a safety box). You will be warned not to carry much cash with you whenever you are on a trip. You don't have to worry about landmines when you travel with local tour guide, 90% of landmines have been disarmed since the war completely ended. However, you are not allowed to enter a zone where you can see warning landmine boards especially the areas in the jungles near the borders.
How to get to Cambodia?
By flight:
Cambodia has two important international airports in Phnom Penh, Sihanoukville & Siem Reap. If you travel from Europe, you always transit in Thailand or Vietnam and there are direct flights to Cambodia if you travel from Asia countries including Philippine, Malaysia, Singapore, Hong Kong, Thailand, Laos, Vietnam etc.
By border crossing:
Thailand: Poi Pet (Aranyaprathet) in Banteay Meanchhey, Cham Yeam (Had Lek) & Daun Lem (Ban Laem) in Koh Kong, O'Smach (Chong Jom) & Anlong Veng (Chong Sa Ngam) in Preah Vihear.
Vietnam: Ba Vet (Moc Bai) & Kaam Samnor (Ving Xuong) in Svay Rieng, Phnom Den (Tinh Bien) in Ta Keo and Prek Chak (Ha Tien) in Kampot.
Laos: Dom Kralor (Veun Kham) in Stung Treng.
By speed boat:
Vietnam: If you visit Mekong Delta River & Can Tho in Vietnam, you can catch speed boats from Chau Doc border (Cambodia's site: Kao Orm Samnor) to Phnom Penh Capital. The boat excursion takes approx. 6 hours depending on the water level.
Who needs visa & how to get visa?
Some of Asian passport holders are officially allowed to enter Cambodia without visa and can stay in the country at least 15 days up to 30 days depending on ASEAN member-countries (Malaysia, Philippine, Singapore, Thailand, Myanmar, Laos, Vietnam etc.) except Afghanistan, Algeria, Bangladesh, Iran, Iraq, Nigeria, Pakistan, Sudan and Sri Lanka while most of European passport holders such as American, Canadian, French, Germany, Italian, Brazilian, Portuguese and Australian can obtain visa on arrival and online (e-visa).
Tourist visa for most nationality is available for 30 days either can be applied in advance (E-visa: $36) or on arrival ($30) at international airports in Phnom Penh, Siem Reap, Sihanoukville and at border crossing including Poi Pet (Aranyaprathet), Ba Vet (Moc Bai) and Koh Kong (Had Lek).
You can apply for e-visa through government official website: https://www.evisa.gov.kh
Make sure your passport is valid for at least six months, has at least one blank page and need a passport-size photo. If you don't have this, you can pay a $2 fee and they will scan the photo from your passport.
What's the weather like?
Cambodia geographically is tropical monsoon, dry (mid Oct to May) and wet (Jun to Oct) seasons but you probably experience a bit cool period at the end of December to early January. The Average temperature is from 34-37 degrees C in dry season while March to June sometimes reaches 40 degrees C. The rain begins from June and lasts through October, the rain is not constant, however, and may be characterized by afternoon or evening downpours. Some roads in the countryside will be impassable at this time as they get flooded or washed out.
Do I have to use local currency in Cambodia?
US dollar is accepted at most places in Cambodia. You are recommended to do exchange money when you arrival in Cambodia but not at border crossing (Poi Pet etc.) because the exchange rate is always behind a scam. You should have a small amount of local currency with you (exchange 20-30 USD to Riel) in case you need to purchase items cost less than a dollar. One US dollar is equal 4000-4100 Riel in the local currency.
Avoid and use US dollar cash in Cambodia?
In Cambodia, it is very strict on US dollar notes and this has recently made travelers feel frustrated because all old wrecked bills, bills with any marks or colors or even bills with any slight stamps are refused not to accept and you will be asked for other new bills instead, and they will advise you to exchange your bills at an exchange shop that the shop will cut interest depending on the conditions of your US dollar bills. However, you are strongly advised to withdraw US dollar cash from ATMs as well as exchange money when you're in Cambodia (not at border crossing and airport port) and you need to make sure that all notes you received are new, clean and without any colors on. Most of super markets, mini marts, boutique shops, restaurants, hotels and pubs accept US dollar cash unless those are new ones.
What kinds of clothing are suitable?
People should wear whatever they are most comfortable in but a fair amount of modesty should be exercised. Importantly, when visiting religious temples, women should cover their shoulders and properly dress below knees especially when visiting Royal Palace in Phnom Penh and at Agkor Wat in Siem Reap. To show your respect to the locals when visiting their villages or you are invited to visit their home, you are highly advised to address appropriately (not too revealed). Swimwear is acceptable on the beaches and at hotel's poolside.
What to bring along?
A hat is also recommended to keep the hot sun off your face, apply sunscreen when go on the beaches, visit Angkor temples as most of them are exposed in the open, apply insect repellent when you go for adventure trips through the jungle, mangroves or at countryside for overnights. Walking shoes, sneakers and sandals are good for sightseeing tours while strong footwear is highly recommended for remote adventures, trekking and hiking. As it is tropical monsoon and to keep you rehydrate, you should bring extra bottles of water with you. Mini first aid kit is also essential.
Drinking water in Cambodia
It is not recommended to drink tap water in Cambodia. Filtered water is a better option, try to use a refillable canteen or water bottle rather than buying bottled water. Remember to avoid ice in drinks if you don't really know where it's manufactured. Bottled water can be found and purchased at local stores and many at the street sides, and at mini marts.
What is an ideal budget for accommodation?
That entirely depends on your style of travel and the level of comfort that you are accustomed to. You can easily find guesthouses from as $9-$15 (Fan or Air Conditioning) while hostels are ranged from $5-$8. Standard accommodation is start from $20-$30, mid-range from $35-$55, comfort is from $60-$120 and luxurious comfort is from $130-$360 and top luxury is up to $400-$1200.
What's the best way to get around?
The Romork (or tuk tuk) is affordable with fun and very popular in Cambodia. You come across Romorks all the way out when you come out of the exit gate at airport. For short distance from your hotel to pup street or super markets, the charge is about 2-3 bucks and a full day service is from $15-$25 depending on places you go but for long distance from 45km up, air conditioning car should be an ideal. The most comfortable and escape from the heat, air conditioning cars are the best option, and price is $30-$45 for general tourist attraction sites. Electric-bike or bicycles are available for rent at the central area. Mountain bike cost $5-$7 and Electric-bike is $8-$12 per day. Motorcycle is not allowed to rent for tourists.
Is a visitor required to have a local tour guide?
No, a guide for the Angkor Complex is not required and it is an entirely up to visitors to decide if they need guide service or not. A guide will definitely enrich your experience and can offer you detailed cultural, historical information and save much of your time on considering or researching but may prefer to go without a guide. A local English speaking guide service is generally charged from $35 per day without sunrise or adventure/remote trips. Tour guide service can be arranged by your hotel, guesthouse and other local travel agencies.
How much is Angkor ticket, how does one get it and how is it used?
The Angkor ticket can be purchased at the toll booth en route to Angkor Archaeological Park. There is always queue, payment is made in cash and they will take photo for you. Once you get the pass, make sure you keep it with you safely (or use name tag) because you have to show your pass to authority guards at the entrance of each temple. Buying Angkor ticket online is also available and convenient, you should prepare a photo ready to upload when you're processing your ticket on the official website: https://www.angkorenterprise.gov.kh/
A). 1-day pass is USD 37
B). 3-day pass is USD 62 (Valid within 10 days)
C). 7-day pass is USD 72 (Valid within 30 days)
Temple hours: The Angkor Wat complex opens at 5:00am and closes at 6:00pm. Banteay Srei closes at 5:00pm and Kbal Spean closes at 3:00pm, so plan your itinerary carefully.
Passes are not required for the following, however there is a toll levied Phnom Kulen ($20), Koh Ker ($10), Preah Vihear ($10), Sambor Prei Kuk ($10), Banteay Chhmar ($5) and Preah Khan Kampong Svay ($5).
What should one bring to give to the kids?
Bringing things and hand out at random is never a good idea as it just encourages begging and make jealousy. Purchasing items from street children is just to enhance them to stay on the streets, missing school and missing out on an education. If you wish to help out children in Cambodia, arrange to visit a school or an orphanage and bring supplies directly to them. You can buy school supplies and toys at the local markets or a stationary nearby. Not only this benefits the local business but also you can purchase those items in a fair price and you won't have to fill your suitcase with items from home. If you will be visiting a home of the locals, bring them some household items such as soap, shampoo, cooking oil, salt, soup base etc. which will be more useful than a decorative object.