Kompong Phluk Village and Banteay Srei Tour
The boat excursion perfectly takes you to explore the impressive Tonle Sap Lake whose Kampong Phluk is famed for its canoe ride into the pleasant mangroves and around amazing stilt houses. Reveal lifestyle and observe how inhabitants make the lake as home. Distinctively visit the intricately carved Banteay Srei in the finest details unlikely other Angkorain temples and sample the tasty steam rice-cake at Preah Dak village as well as strolling at the palm sugar village on the way back.
Tour code: #lychee
City/region: Siem Reap
Tour type: private, classic, historical, sightseeing, boat/canoe
Duration: 7-8 hours
Hassle: free, flexible
Available: October to February
Advance booking: required
Tour required: valid Angkor ticket
Detailed Itinerary
Our experienced tour guide and driver will be greeting you at 8.00am at your hotel's lobby then heading out of the hassle Siem Reap city about 40 minute drive to Kampong Phluk village of Tonle Sap Lake. The journey passes interesting city highlight and enroute to stroll around Rolous market to see trading activities before taking a boat trip along canal toward the centre of Kampong Phluk. Once we arrive, the boat begins to slow down to let you enjoy the surrounding admired by amazing houses atop high poles, come across the highlight of fishing activities as well as see people selling fruits/vegetable/meats on their boats. Witness how life works on the water and how people make the lake as home then we resume take canoe to explore the pleasant mangroves, enjoy the serenity while taking picturesque photos. Continue by our boat to see the great lake of Tonle Sap, learn from your tour guide about ecosystem and its rich biosphere reserve.
Afternoon, we drive to Preah Dak village to witness daily life of people selling their famous snacks with a chance to sample the tasty steam rice-cake hidden coconut milk inside. Continue to visit Banteay Samre temple which was built in 12th century during Angkor period, admired by its serenity, take some beautiful photo before heading to reveal the intricately carved, beautiful red-pink sandstone temple of Banteay Srei – considered to be a Jewel of Khmer art which features elaborate decorations and its finest details. These factors have made the temple extremely popular with tourists, and have led to its being widely praised as a "precious gem". On the way back, we have a short visit at palm sugar village and other various local handicraft souvenirs. Return to your hotel and end of service.
Tour Prices are quoted in US dollar per person
1 Pax: $105.00
2 Pax: $65.00
3 Pax: $53.00
4 Pax: $43.00
5 Pax: $35.00
6 Pax: $32.00
Kompong Phluk's Mangroves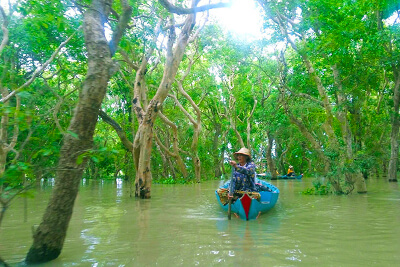 Kompong Phluk village is famed for its pleasant mangroves where you enjoy the rowing boat going closer to the lines of stilt houses arising from the water…
Phnom Kulen Waterfalls Tour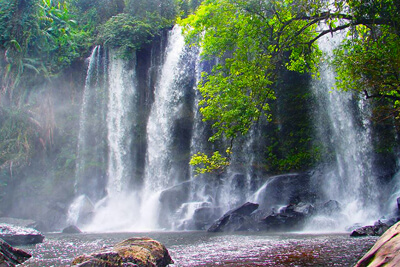 Leisurely enjoy the relaxation near the fascinating waterfall of Phnom Kulen national park, cool off and swim under the falls. The holy Phnom Kulen…