Phnom Penh Capital
The capital is populated over two million, the bustling capital as well as the commercial hub of Cambodia. Situates at the conjunction of the Mekong, Tonle Sap River and Tonle Bassac, Phnom Penh features the significant cultural and historical Royal Palace, Silver Pagoda, National Museum and religious Wat Phnom that was built atop the hill in the heart of the capital. In the deep sadness, the killing field of Cheung Ek and the transformed Tuol Sleng museum (S21 Prison) attract hundreds of tourists to witness its tragic sites before continuing to stroll around Tuol Tompoung (Russian market) for happy shopping and have some highlights of the daily capital activities with stopping at independent monument, yellow post office, local markets, active pagodas or at an art museum.
The fresh riverside gives a pleasant walk overlooking Tonle Sap & Mekong as if taking picturesque photos of Royal Palace which should not be missed out. Along the riverfront, there are busy café, interesting boutique shops, restaurants, urban hotels and colonial buildings while at the other sides fulfill of colorful restaurants & bars which make the nightlife more cheerful.
Best Things to Do & See in Phnom Penh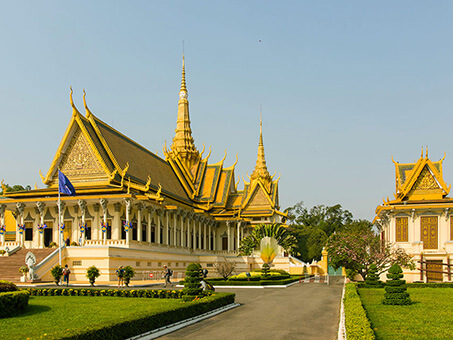 1. The Royal Palace
The striking complex of buildings features the well-preserved Khmer architecture with a slight French touch, serves as the royal residence for Cambodia's king and situates at the river bank of the conjunction called "Chaktomuk". Being built between 1866 & 1870 and combines significant history, The Royal Palace complex is divided into several compounds which consist of the most interesting yellow Throne Hall, Palace of the Khmer King, Moonlight Pavilion, Stupas and especially The Silver Pagoda that houses various national treasures included The Emerald Buddha and its floor was greatly inlaid with more than 5000 silver tiles.
*Note: Dressing must be appropriate, cover your shoulders and knees. Otherwise, you are not allowed to get in.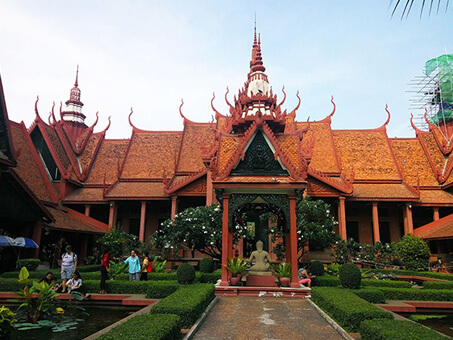 2. National Museum of Cambodia
Built between 1917 and 1924, this dark red buildings inspire Khmer architecture, traditional design and cultural awareness, the most extensive and significant cultural & historical museum that houses the finest collections of Khmer arts, including Buddhist and Hindu sculptures, Khmer ceramics, crafts, bronzes and ethnographic items from prehistoric (Funan and Chenla) and Khmer Empire period.
3. Tuol Sleng Genocide Museum
The former secondary school that was turned into the S-21 interrogation and detention center of the Khmer Rouge after the fall of Phnom Penh Capital in April 1975. With an estimated 20000 people were imprisoned and some were tortured to death, those were extremely tortured to name family members who were soldiers under The General Lon Nol regime, doctors, teachers, students, academics, engineers, government officials and even monks later then were arrested, tortured, interrogated then moved and executed at Cheung Ek. Visiting Tuol Sleng Genocide Museum is a bit depressing experience and it's not certainly recommended to those who traveling with children but it would fit to those really keen to witness this tragic history of the country.
*Note: Dressing must be appropriate, cover your shoulders and knees. Otherwise, you are not allowed to get in.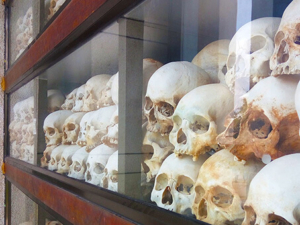 4. The Killing Fields Choeung Ek
Huge graves of more than one million were exterminated from 1975-1979, those were prisoners relocated from Tuol Sleng detention center after the interrogation was witnessed. Most of dead bodies were government officials, former politicians, monks, teachers, engineers and so on. Locates 14km away from central Phnom Penh, today Choeung Ek is a memorial and one of the main tourist attractions of Phnom Penh, where tourists can still see the remnants of victims and bones in pits especially the broken and cracked skulls were stored in the Buddhist stupas that can be seen directly from the glassed-sides.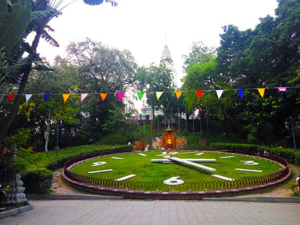 5. Wat Phnom
"Mountain Pagoda" The high hill atop religious monument as well as the central point of Phnom Penh Capital which was founded in 1372 and it comes along with an interesting legendary of Daun Penh grandmother. Wat Phnom is the sacred site where locals come to pray for blessing and happiness, and is considered as the central point to start the celebration of main public holidays such as Khmer New Year and Pchum Ben.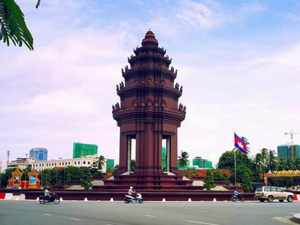 6. Independent Monument
With a 37m height in a style of Khmer architectural Angkor temple and was constructed in 1958, this Independent Monument is built to memorialize the victory of proclaiming the independence from France in 1953. Just across the street, it's the green park with notable memorial which houses Prince Norodom Sihanouk Statue and it daily attracts locals and outbound tourists to visit and capture its nice photos.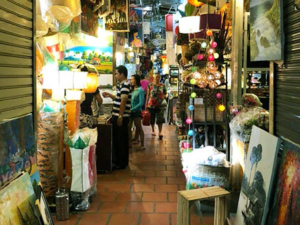 7. Russian Market (Phsar Tuol Tompoung)
The popular, bustling tourist market clusters local vendors selling various types of souvenirs including handicrafts, scarves, antiques, paintings, ceramics, clothes, silks, silver jewellery, bags, food stalls and so on. Locates along St 163 of Phnom Penh Capital, Russian Market should not be missed out when exploring Phnom Penh.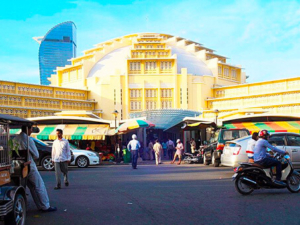 8. Central Market
In a very yellow dome shape mixing of French art decoration and was built in 1937, the dome of Central Market or Phar Thmei consists four long wings that gather hundreds of stalls displaying and selling many kinds of goods, local vegetables, meats, groceries, seafood, flowers, jewellery, clothes, brand/fake watches and many more. Central Market is considered as the most interesting center for browsing the busy local activities and also is the best place to hunt for different flavors of authentic local food unlikely Russian Market (Phsar Tuol Tompoung) which mainly focuses on souvenirs for tourists.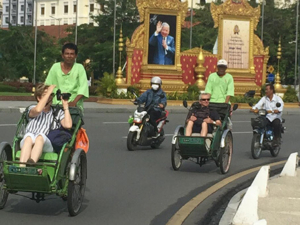 9. Exploring Phnom Penh by Rickshaw (Cyclo Ride)
In a slow pace, rickshaw or Cyclo is an ideal to explore the highlights of the bustling Phnom Penh Capital. The ride along The Riverside, with the glimpses of Royal Palace and passes Chaktomuk Conference Hall toward Independent Monument and ending the ride at Central Market will create a memorable experience for your journey to Cambodia.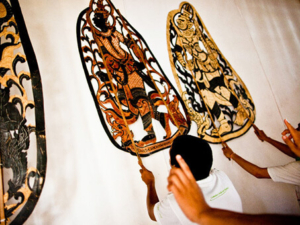 10. Cambodian Living Arts
Founded by Arn Chorn Pond – the genocide survivor and musician, Cambodian Living Arts an innovative art centre that culturally makes Cambodian arts living through developing, educating, supporting and training the young generation in the art careers. If you want to discover the cultural heritage of Cambodia arts, Cambodian Living Arts offers a visit that you can grab the insight into Cambodia cultural arts or through visiting their evening's cultural art shows either in Phnom Penh or in Siem Reap.
More detail: https://www.cambodianlivingarts.org/en/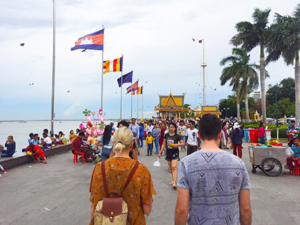 11. Phnom Penh Riverside & Sunset Cruise
The fresh riverside gives a pleasant walk overlooking Tonle Sap & Mekong as if having opportunity to take picturesque photos of Royal Palace. Along the riverfront, there are busy café, interesting boutique shops, restaurants, bars, urban hotels and colonial buildings while at the other side is always occupied by locals in the evening and some feeding pigeons. The boat excursion for the sundown is also an ideal to see the golden lights over Mekong & Tonle Sap and where you will gain the evening's fresh river-air after the exploration of the capital.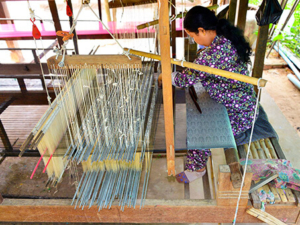 12. Koh Dach (The Silk Island)
Being famed for its fine silk productions, Koh Dach sits by the River Bank of Upstream Mekong in Kandal Province and the Island houses numerous silk communities where visitors can learn more about silk process, feeding worms, a reliable place purchasing silk items, scarves, Sarong, handicrafts as well as a great home for you to reveal silk weaving history in Cambodia. Besides silk weaving activities, visitors have chances to see authenticity of Cambodia including lifestyle, gardening activities, feeding animals and other interesting insights. Koh Dach or Silk Island is reachable by a short boat cruise or approx. 45 minutes by road from central Phnom Penh Capital.