Siem Reap Village Tour with Tonle Sap Lake
Uniquely experience a short oxcart ride through the village before handing on authentic countryside activities such as farming, gardening, rice planting or harvesting, or palm roof making depends on the season of the year. Meet a host family to witness their lifestyle and spend noon time to relax, enjoy fresh coconut juice, fruit tasting and lunch prepared by a host family. Continue to visit Mechrey floating village of Tonle Sap where you witness daily life of local people living on the water and its interesting river activities.
Tour code: #Paddy-basil
City/region: Siem Reap
Tour type: private, village, sightseeing, unique, boat
Duration: 6-7 hours
Hassle: free, flexible
Available: mid November to January
Advance booking: required
Tour required: all included
Detailed Itinerary
Our experienced tour guide and driver will be greeting you  at 8.00am (or 8.30am) at your hotel's lobby then we head of out the bustling Siem Reap city, the journey passes interesting city highlight and huge beautiful rice paddies dotting with palm trees and cattle in the fields before we arrive in the village, next have some fun on the oxcart ride through the village to get interaction along with "Hello" from friendly kids. Disembark the cart, you'll be greeted by a host family with welcome fresh coconut juice before we get involved with rural activities such as rice planting or harvesting or growing vegetables or making roof of palm leaves depending on the season of the year. These rural village activities are most unique, memorable experience in your journey to the land of Angkor, Cambodia. Return to the family's house, stroll round to see the surrounding which admired by routine, lifestyle, culture, customs and superstitions before enjoying lunch cooked by the host family, along with exotic fruit tasting.
Afternoon, continue to Mechrey village of Tonle Sap Lake. Embark a sheltered boat for the excursion to see The Great Lake of Tonle Sap which the largest freshwater lake in South East Asia and is also an ecological hot spot that was designated as a UNESCO biosphere in 1997. The boat trip slowly cruises along the canal then passing by floating school, floating houses which animated by some fishing activities. Our tour guide will explain you about Tonle Sap ecosystem and witness how life works in the floating community relying on aquatic resources, and we stop to see a small floating crocodile farm, souvenirs shop and stroll around Buddhist pagoda to interact the locals. Return to your hotel and end of service.

Tour Prices are quoted in US dollar per person
1 Pax: $115.00 ($103.00 by Tuk Tuk)
2 Pax: $69.00 ($63.00 by Tuk Tuk)
3 Pax: $60.00
4 Pax: $50.00
5 Pax: $46.00
6 Pax: $42.00
Kompong Phluk's Mangroves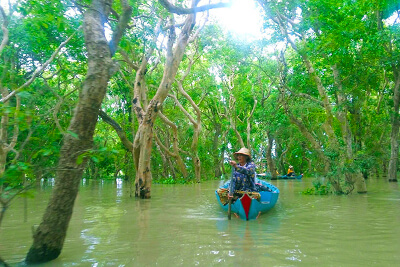 Kompong Phluk village is famed for its pleasant mangroves where you enjoy the rowing boat going closer to the lines of stilt houses arising from the water…
Phnom Kulen Waterfalls Tour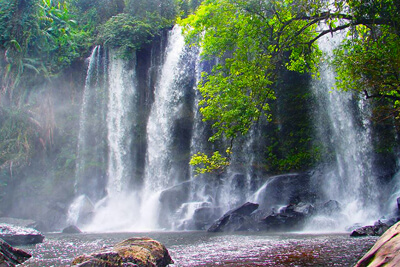 Leisurely enjoy the relaxation near the fascinating waterfall of Phnom Kulen national park, cool off and swim under the falls. The holy Phnom Kulen…