Phnom Kulen Waterfalls and Kompong Phluk Village Tour
Beyond Angkor Complex discovery, there are still many interesting things to do and explore in Siem Reap you can't imagine. With this private trip, we believe that Phnom Kulen Waterfalls and Kompong Phluk stilt house village definitely make your day well worth a visit, enjoy cooling off and swimming under Kulen falls, visit the largest reclining Buddha, 1000 Linga carvings, a boat trip to Tonle Sap Lake and canoe excursion to see peaceful mangroves.
Tour code: #cowa
City/region: Siem Reap
Tour type: private, adventure, historical, sightseeing, boat/canoe
Duration: 7-8 hours
Hassle: free, flexible
Available: November to February
Advance booking: required
Tour required: all included
Detailed Itinerary
Our experienced tour guide and driver will be greeting you at 7.30am at your hotel's lobby, heading to purchase Phnom Kulen ticket (included) before we drive out of the hassle Siem Reap city to visit one of Cambodia's national parks – popularly known as "Phnom Kulen" where you meet famous, beautiful waterfall. Phnom Kulen (Lychee Mountain) is regarded as the holy mountain for religious significance to Hindus and Buddhists. The journey provides nice views of rice paddies, countryside dotting with palm trees and cattle before strolling at Preah Dak market to witness daily life of people selling their vegetables, meat etc. Once we arrived at Phnom Kulen, enjoy the walking tour to see the giant reclining Buddha statue on the hilltop along with breathtaking, spectacular views and learn from your tour guide about historical site. Resume walking within the jungle to witness religious Hindu of the riverbed of 1000 linga carvings, next we move to observe the sacred ground-pool before we head to relax near the waterfall. From then, it is your own free time for cooling down, swimming and enjoying local lunch and fresh coconut juice nearby (your own account).
Afternoon, we drive to Kompong Phluk village of Tonle Sap Lake. Once we arrived at boat pier, we process to embark a local sheltered boat which begins to slow down to let you enjoy the surrounding admired by amazing houses atop high poles, come across the highlight of fishing activities as well as see people selling fruits/vegetable/meats on their boats. Witness how life works on the water and how people make the lake as home then we resume take rowing boat to explore the pleasant mangroves, enjoy the serenity while taking picturesque photos. Continue by our boat to see the great lake of Tonle Sap, learn from your tour guide about ecosystem and its rich biosphere reserve. Return to your hotel and end of service.
Tour Prices are quoted in US dollar per person
1 Pax: $175.00
2 Pax: $105.00
3 Pax: $85.00
4 Pax: $70.00
5 Pax: $58.00
6 Pax: $54.00
Kompong Phluk's Mangroves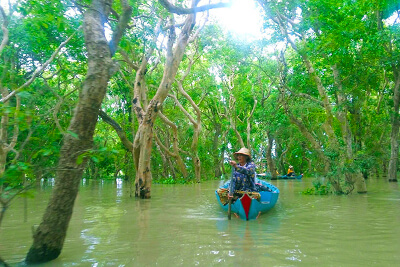 Kompong Phluk village is famed for its pleasant mangroves where you enjoy the rowing boat going closer to the lines of stilt houses arising from the water…
Phnom Kulen Waterfalls Tour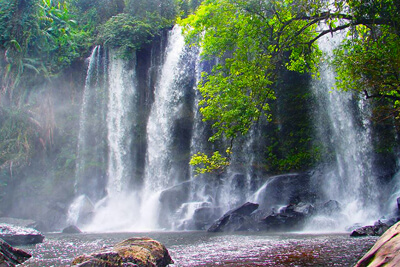 Leisurely enjoy the relaxation near the fascinating waterfall of Phnom Kulen national park, cool off and swim under the falls. The holy Phnom Kulen…