The Cambodian Morning Street Food
Such an amazing half day Cambodian street food tour provides a fantastic experience and fun to see local life at Siem Reap's biggest market along with tasting various flavors of Cambodian snacks, dessert, rice wine, banana/potato chips and a cup of sweet sugarcane juice. Save your stomach empty with mouth dropping while considering to have a main local breakfast "Eat like a local" that our guide gives you a tip to choose. This guided adventure food tour definitely gives the best sights of daily bustling trades between vendors and buyers from bargaining to a successful purchase that have applied to their basic living.
Tour code: #Champey
City/region: Siem Reap
Tour type: private, walking, sightseeing, street food
Duration: 3 ½ – 4 Hours
Hassle: free, flexible
Available: daily (best time: mid November to April)
Advance booking: required
Tour required: all included
Detailed Itinerary
Our experienced tour guide and Tukt Tuk driver will pick you up at 7.30am (or 8.00am) from your hotel's lobby then we're heading for guided walking tour through the interesting array of the biggest local market to observe local trade exchanges from fresh harvested vegetables, fish buckets, meat stalls, and greengrocery to grocery. From there, choose from a local breakfast you love to eat (Lort Chha, Pork noodle soup, Vermicelli curry, chicken porridge or rice grilled pork) before continuing to see the bustling market activities while our guide introduces you to sample deep-fried snacks or try a small dish of delicate Cambodian dessert.
Interestingly, we're zigzagging at the second-hand cloth hall – a place you can find a lot of second-hand clothes from various casuals to jeans, along with your wonder seeing many locals spending much time sitting to choose their favorite ones or you may purchase one too. Next, we walk to catch the highlights at jewelry and brand cloth stores which probably attract your sight to bargain for a lovely one as souvenir for your friend or family.
We take our awaiting Tuk Tuk to visit a family house rice wine, learn the process of brewing Cambodian rice wine, it's a good chance for you to have a sip and we then resume visit the workshop of deep-fried banana/sweet potato chips. Our final stop will be at a small blacksmith workshop to observe how they invent different types of knives, sickles, hoes, rakes etc. and enjoy a cup of sugarcane juice before returning hotel.

Tour Prices are quoted in US dollar per person
1 Pax: $50.00
2 Pax: $37.00
3 Pax: $35.00
4 Pax: $32.00
5 Pax: $30.00
6 Pax: $28.00
Kompong Phluk's Mangroves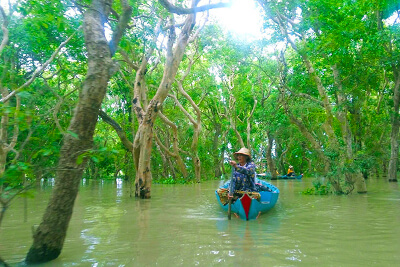 Kompong Phluk village is famed for its pleasant mangroves where you enjoy the rowing boat going closer to the lines of stilt houses arising from the water…
Phnom Kulen Waterfalls Tour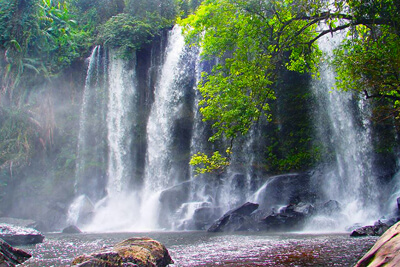 Leisurely enjoy the relaxation near the fascinating waterfall of Phnom Kulen national park, cool off and swim under the falls. The holy Phnom Kulen…